Death in the 21st Century – 3 big conversations everyone needs
---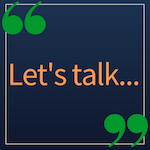 There are some conversations in life which are so important everyone, everywhere, should have them…
And talking about death is one of them. Many of us talk about death in the abstract, debating what might happen when we die. But the conversation we should be having is the real one about what will definitely happen when we die.
Why do we need to talk? Because we all die. Whether it's tomorrow or in 50 years, it's going to happen. And if you have children, other dependents, or pets you need to leave clear instructions about how they will be cared for. If you have assets and property, you need to decide who to leave them to. If you have a business, you need to say who will run it.
Talking about death
But who do you need to be talking to? What are the conversations? Well, when I say conversations I don't mean chatting in the pub with friends over a glass of wine. I mean productive conversations which culminate in you making a will that you're happy with.
The three big conversations to have before making a will are with:
Your spouse, partner or significant others: These are the people who you are most likely to own property and share assets with. You may also have children. You need to consider any children from previous relationships. Talk about the type of funeral you want – do you have strong feelings about being buried or cremated? What will happen to your children if you both die – who do you want to appoint as guardians? How do you plan to divide your assets if you and your partner both have children outside your own relationship?
Your solicitor. Getting legal advice from a trained professional is a must with this; a will is one of the most important legal documents you will ever enter into. A solicitor will look holistically at your circumstances and take every complexity into account and it's simply not true that solicitors are always more expensive.
Making a will isn't just about who gets your money. There are things you probably won't have considered – such as who will inherit if your children don't survive you. Not a pleasant thing to discuss, but these are conversations which must be had.
A solicitor can also advise you on the best way to proceed given your individual circumstances. Perhaps you have a disabled relative you need to make care provision for. Or you might be worried about your estate being swallowed up by inheritance tax. They can explain the best course of action for you, making sure your loved ones are protected.
Your executor. This is the person (or persons) who will manage your estate after you die. It's a good idea to pick more than one, in case one of them dies before you. They need to be 18 years or over and someone you trust who will carefully and responsibly manage your affairs. You can choose your spouse or your children – and they can still be named in your will as beneficiaries – but remember death is an emotional affair while a will is a practical one. They'll be grieving and may not feel up to the legal paperwork and process. If you do ask a family member, it's always a good idea to ask someone else, too, who could take away some of the burden and give practical support.
Importantly, you need to get their permission before appointing them as executors and make sure they're happy to take on the role and aren't just agreeing without understanding, or because they feel they have to.
Dying Matters
Having the right conversations about death is so important that a coalition, Dying Matters, has been set up by the National Council for Palliative Care, to promote public awareness of dying, death and bereavement.
They do some great work in making death part of everyday conversation, talking about practical things like funeral planning – all with an emphasis on the fact that talking about dying doesn't mean it's going to happen tomorrow.
They are running an Awareness Week from 9-15 May 2016, which you can find out more about at http://www.dyingmatters.org/page/BigConversationResources
The organisation also supports the growing trend for Death Cafés, places where people can meet and chat over a coffee and find out more about end-of-life-planning in a pleasant, hospitable environment.
Talking about death doesn't need to be macabre. By expressing your wishes to those that matter and setting them out in a legal document, you are making sure that your loved ones are well looked after and that your hard-earned assets are distributed fairly, and in the way you have chosen.
---