Could your home be a target for property scams?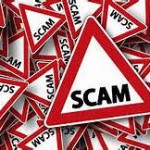 The phrase 'safe as houses' is a familiar one but how safe is your home from property scams?
The reality is your property could be at risk from conmen, fraudsters and drug-dealers.
These days criminals don't even need to set foot in a property to be able to take control of it or use it for illegal activities.
Information about you and your property is openly available through the internet from places such as the Land Registry and the Probate Registry or even through information that can be picked up from social media.
How do property scams work?
The ingenuity of fraudsters seems limitless but there are some property scams that happen more frequently than others. Here are some examples that are more common than you might think.
The bogus tenant
You could encounter this scam if you're letting out your own or a family member's property, perhaps to pay for care fees or if you're going abroad for the winter.
In this type of scam you might be approached by what appear to be the perfect tenants. Perhaps they're a smartly dressed, professional-looking couple who are so keen to move in they don't want to 'waste' your time waiting for their references so they offer the deposit and several months rent in advance on the spot.
What they're really up to is subletting the property to a group of other people without the owner's knowledge. Often those people will be disadvantaged and may even be in this country illegally. The bogus tenants fill the property with as many people as they can, make a tidy profit taking cash from the group and then disappear, leaving the genuine owner of the property with all the problems and expense of getting rid of the unauthorised occupants.
The bogus letting agent
If you think you can avoid this type of scam by using a letting agent to vet the tenants remember, most of the criminals committing these kinds of fraud are very experienced. They have cunning ways to get around attempts to avoid them.
They might set up a bogus online letting agency using the identity of a genuine letting agent. When they find an unwary landlord they pretend they have found suitable tenants who have passed all the checks to rent the property.
That way they can scam the property owner twice, by charging a letting agent's fee and taking the rent from the real occupiers. By the time most landlords find out about the fraud the bogus letting agent has long gone.
Mortgaging a deceased owner's property
Fraudsters will scour the internet for information about prospective targets. They are particularly interested in information about property owners who have recently died. They can easily and lawfully obtain information over the internet about people who have died and find out if the deceased owned a property.
The criminals then set up their scam. They pose as the owner of the property and make fraudulent mortgage applications using the property as security.
Fraudsters know how to fool mortgage lenders
Their favoured targets for this type of scam are elderly people who have died, because their properties are generally free of mortgage.
If you think that using the identity of an elderly deceased person to apply for a mortgage is unlikely to work, think again. The fraudsters forge documents such as birth certificates, passports etc. Alternatively, they might forge documents to make it appear as if the elderly owner gave the property to the fraudster before they died.
These are just some of the many ways criminals target unsuspecting property owners, but don't panic! You can protect yourself and your family from property scams. You just need to take the right steps and be vigilant.
Steps to protect against property scams
If you are letting your property or the property of an elderly relative make sure you get the identity of the prospective tenant checked out before handing over the keys. No matter how persistent and persuasive they are, make sure their credentials are valid.
If you decide to use a letting agent check they are genuine before paying any fees. Find out if they are a member of one of these organisations: NAEA, ARLA, NAVA, ICBA and APIP. Members of these organisations are required to abide by professional standards and if they don't it may be possible to apply for compensation from the National Federation of Property Professionals (NFOPP).
Sign up to get property alerts from the Land Registry to let you know if someone is trying to change the register of your property, for example if they are trying to register a mortgage against your home.
If the property is going to be empty for a while or you or a relative are not living at the property you could think about applying to the Land Registry to register a restriction on the property title to prevent a sale or mortgage taking place without your consent.
Never allow anyone you don't know to take away the keys for any reason. Make sure that viewings of the property are always accompanied.
---
Other property related articles
Landlords – what if a tenant develops dementia or dies?