Shakespeare's Will reveals clues – what does your Will say about you?
---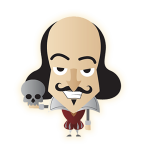 Shakespeare's Will has been studied in minute detail over the centuries as people search for clues to the personality of the Bard.
Famously Shakespeare left his 'second best bed' to his wife, Anne Hathaway, in his Will and there's been a lot of speculation about that gift ever since – was he deliberately snubbing her by giving her only the 'second best bed'?
Recently, The Times has reported under the headline 'Shakespeare's cruelty to widow re-examined' that a new study of Shakespeare's Will has suggested that it might actually have been a sign of his affection for his wife because the 'second best bed' would probably have been their marital bed.
We'll never know for sure because Shakespeare's Will doesn't speak to us about his emotions or motivations and that's a problem we still have today.
Wills are legal documents
Wills are legal documents and have a very specific function. Wills are about the legal procedures involved rather than the person's thoughts and emotions but without information about the motivations behind our Wills our relatives and friends might misunderstand – just like in Shakepeare's Will.
Over the last decade or so there's been an enormous increase in the number of disputes about Wills. In many cases disputes might not arise if the parties had information about what the deceased person was thinking when they made their Will. So why don't we do something about it?
Create a personal statement
One solution is to create a personal statement explaining your thoughts and feelings about your Will.
I encourage clients to consider making a personal statement when they have a Will written and this really gives them an opportunity to leave something meaningful for their relatives and hopefully avoid any subsequent confusion or dispute about whether the person really understood what their Will meant.
Our Funeral Wishes Pack
In fact we've decided to take this idea a step further and we can provide a Funeral Wishes Pack with templates and suggestions for things you might want to include (or avoid!) in your personal statement.
Why not write your own eulogy
You can also set out in your Funeral Wishes Pack your thoughts about your funeral service, giving suggestions for hymns, music, poetry, readings etc – in fact if you think the person conducting your funeral service might struggle to talk about your life why not write your own eulogy? After all, it's your life they'll be talking about and no-one knows it better than you. There's no need to feel that it's pompous or big-headed to write something about your life story.
Why not use it as an opportunity to say goodbye and thank relatives and friends for their love and friendship. Your family might actually be grateful at the time to hear your direct message to them in words you have written yourself.
If you don't know how to start writing a eulogy don't worry there are ideas and templates in the Funeral Wishes Pack to help you.
Include an Asset Log
Our Funeral Wishes Pack also contains an asset log where you can record important details to help your family get to grips with sorting out your affairs. We've also included some information about probate procedure and tips about administering the estate.
Funeral Wishes Locker
You don't even have to store a hard copy of your Funeral Wishes Pack. We're giving members of BE My Own Lawyer, our exclusive membership service, the opportunity to create their own Funeral Wishes Locker in which to store a Funeral Wishes Pack securely. You can give access to your Funeral Wishes Locker to family and friends via a password so they can access it after your death.
Although it's fascinating for academics and writers to puzzle over the intentions behind historical Wills most of us don't want to leave a confusing puzzle behind us.
Find out how to start making your Funeral Wishes Pack.
---
For a limited period only we are offering a free Will Review with every Funeral Wishes Pack – the perfect opportunity to find out if your Will still meets your needs and make sure you communicate your wishes clearly to your relatives.
---
About the author:
Rosamund Evans, solicitor TEP.
Image: 1426857260_shakespeare.png